World Truck Driving Simulator (MOD, Hack) is the best truck simulator game and it was developed by Dynamic games company.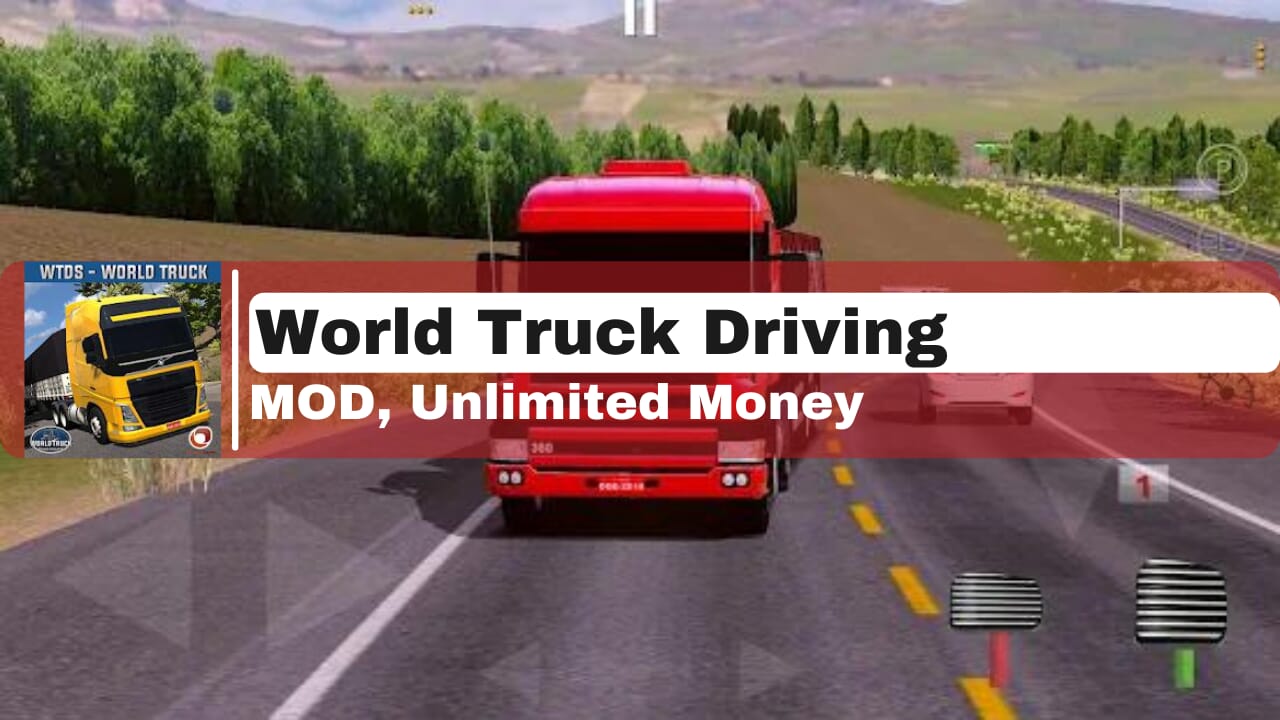 About World Truck Driving Simulator
World Truck Driving Simulator is simply called WTDS. Most YouTubers and gamers called this game like this. WTDS is the best truck simulation game with high graphics. The game graphics are well optimized and very eye-catchy obstacles appear on the screen. Drive with most famous branded trucks like Scania, Benze and etc. The developer perfectly planned to provide this game for who love simulator game in Android.
Drive to complete your job
In World truck driving Simulator, Your main job is driving the truck to reach the tanker place. Before starting your job, you just need to select the job based on money and routes. Take your truck and go to the marked location on your map. Then "see jobs" text appear to choose the text to see your currently available jobs. If you are not get satisfied while seeing the job just refresh to see more available jobs. Once you tap the available jobs, the routes will appear and map side.
After choosing the right job in World Truck Driving Simulator, you find the backside tanker in job selected area. Drive perfectly to connect the tanker from the truck. Now the player was ready to drive the truck to reach the tanker in right place. Your routes will appear and the top corner side map and you see the routes using maps. When you start driving the truck, there are many vehicles that come opposite in road. So careful to drive your truck and very careful to protect the backside container. If you damaged your backside container, your amount will reduce based on damage.
Real truck driving controls
Don't worry about the controls, because the game World truck driving Simulator developer creates the controls like real-life controls. It will look simple but very strong to access the truck. One more thing, the controls are the same for all truck models not different. So very easy to handle the truck by using these simple controls. All truck controllers will appear on the mobile screen and that will very easy to access. Maps are visible in trucks inside small screens and top of the screen. Right side small mobile icon appears just tap to solve your truck problem
If your truck was stopped in between the roadside, call the urgent diesel by using a mobile phone. Sametime, if you need to dismantle the container, using mobile to dismantle them. Additionally, when your truck gets accident by some other vehicles, just call my mobile to get emergency help. Moreover, one steering wheel, two pedaling (Accelerator and brake), hand brake, lights button, horn, right-left indicator, and petrol meter icon appeared on the screen. World Truck Driving Simulator has changed the completely driving level in virtual gaming.
Drive with many trucks
There are a lot of trucks available with different types of engine power. Personally, I like the branded truck is Scania 730. Recently I drive the Scania to complete 20+ jobs in 10 days. Really amazing to drive the branded trucks and the truck's sounds are really cool. A lot of trucks available to play so the reason I never mention. Because truck list crossed text limitation. Moreover, you can paint your trucks by colors in World Truck Driving Simulator. Recently I change my truck color into a yellow and black color which is very perfect for my Scania. You also try to use that color to look more eye-catchy.
Customization
Hats off to the World Truck Driving Simulator developer team. Because they provide some customization features and that is very useful for those who love the truck designs. Just upload your perfect suitable png and color designs in-game home section. Upload the perfect image to your current model truck and that very looks eye-catchy. I prefer to you Caterpiller design for your truck and that is very eye catchy for a look by others. Moreover, every player can customize their horn sound, tanker color, engine start sound, and much more.
Graphics
No minus point available for World Truck Driving Simulator. Because nothing simulator game cannot beat this game graphical designs. Every small thing is well optimized and graphically improved to see. When I'm driving this game truck I feel I'm the real driver of the truck. So extremely graphics really look more realistic. 3D engineered graphical method will improve the day cycle reality graphics. Rainy times, the truck mirror was filled with rainy drops. So there are many real things that will be hidden from this simulator.
MOD APK version of World Truck Driving Simulator
Compared to the original version, World Truck Driving Simulator MOD APK was really helpful to drive many trucks without pay real money. Yeah, some branded trucks need the amount to buy the new trucks with real money. But in this MOD version, you get unlimited money to buy the all trucks.
MOD features
Unlimited Money: Buy the vehicles within a second using a large amount of money.
Also, try the best simulation game Last Day On Earth.
Download World Truck Driving Simulator MOD APK (Unlimited Money) for Android
Overall, I covered full detailed information and guidance about the World Truck Driving Simulator (WTDS) game. This is a very realistic simulation truck driving game for those who love truck simulation games on Android. I prefer this game to who love high graphical and realistic driving game for Android. Try our MOD version to buy the all trucks and drive the branded truck to soonly complete your job. Download the MOD version by below the article available links.