Wps Wpa Tester Premium (MOD, Paid) gives a simple and user-friendly interface. Hack and Crack Wifi Router Pins easily!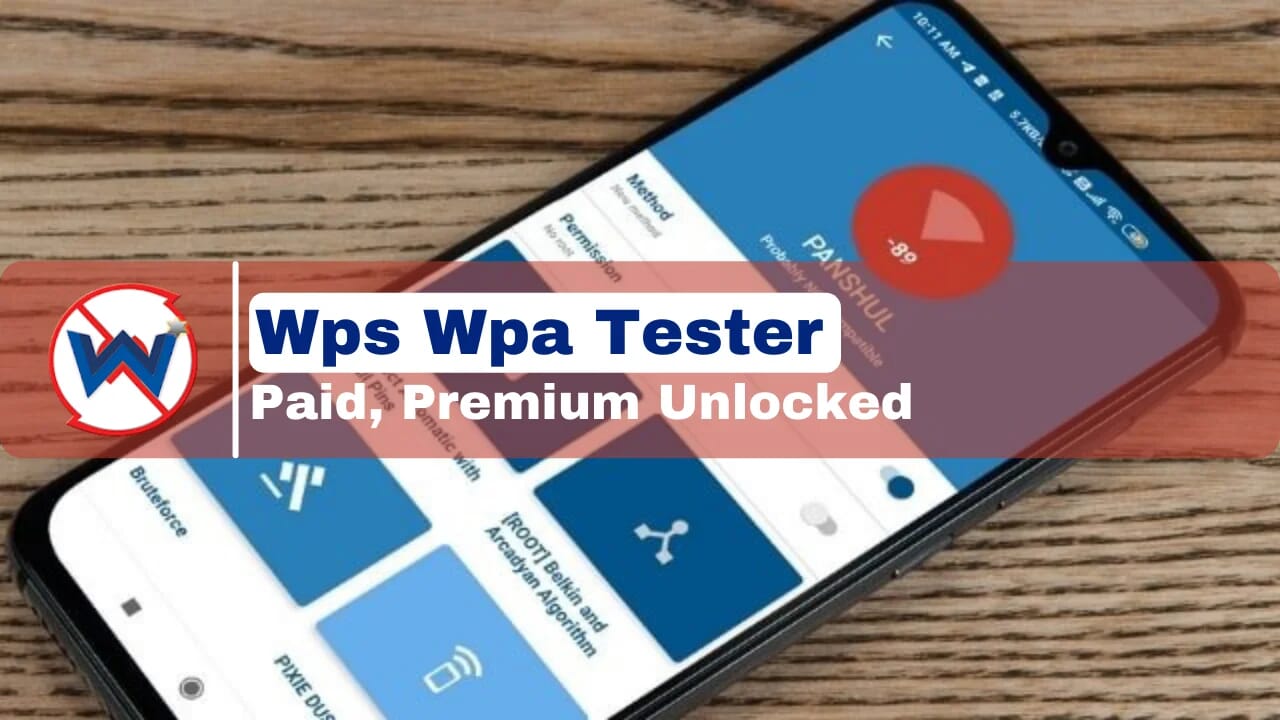 About Wps Wpa Tester Premium
This program can help you determine whether or not your wireless access point is vulnerable to the WPS protocol. The WPS PIN, which is calculated using the MAC address of your router, can be used to check your WiFi connection.
If you're concerned about the safety of your wireless network connection, Wps Wpa Tester can help. If WPS is found to be enabled on your access point, you should disable it. The app's main goal is to alert users to the vulnerabilities in their WiFi network so that they may take action quickly. In addition, if you discover that your WiFi is being unlawfully accessed, you can reset the password.
Try Other MODs: WPS Office, WPS Office
Rooting is not required.
Rooting a mobile phone is required to use most WiFi password checking apps. Because it doesn't require anything from you, you don't need Wps Wpa Tester. Install this app on your Android device, then watch the app scan all nearby wi-fi networks and select the wi-fi network to review the password.
Using Wps Wpa Tester is a good option for people who need to utilize a social network (like Facebook) but can't find a wi-fi network nearby. There will be an icon that shows a green lock if WPS has been activated on your router and you may get your password by entering a PIN.
This is not feasible if the icon is red. How can I tell whether the WPS-enabled access point has been compromised using Wps Wpa Tester's numerous connection modes? Wi-Fi security flaws can be rapidly discovered using this program.
An easy-to-use user interface
There are only three steps to scanning passwords in a matter of minutes. Send a friend the password by copying and pasting it into a message or using it to connect several devices on the network. In comparison to other tools, the Wps Wpa Tester is faster and has a better chance of succeeding.
Using this app is a breeze because of its simple and intuitive design. It's so simple to use that anyone can get up and running with it in a matter of minutes. It will begin scanning for networks as soon as it's opened, and it will do so automatically.
However, if you don't have root privileges, you can't read the password in this app. Wi-Fi passwords can be viewed by root users, who can scan and show them on the screen of a mobile device.
Quick WiFi Scanner
Wps Wpa Tester offers a quick check of the immediate area for any possible wifi connections. Next, it has a user-friendly interface that displays all of the WiFi hotspots in the region, as well as vital details. The protocols, passwords, ports, and IP addresses of today's wi-fi networks are so complex that they are difficult to understand for a wide range of users. The user can modify the view to put all of the data in a more logical order, making it easier for them to deal with the system. It allows users to alter the name, location, showing, and many other features on every WiFi they choose, but it's a one-sided view.
Find Passwords Any routers with Wps Wpa Tester Premium
A rootless program with significantly more features than users expect is Wps Wpa Tester.. In order to make it easier for people to connect, it displays all of the nearby wifi networks. Users will be able to get in touch with them quickly and easily through this method. Each wifi network has its own unique pace at which passwords are decoded; nonetheless, it always proposes the most stable connection for consumers. A direct bypass of the app's security measures and a password-protected connection to the WiFi prove that the app's previous security recommendations have been followed. As a result, users must follow thorough instructions in managing routers in order to ensure the security of each form of wifi.
We're here for you whenever you need us, every day
The developer of Sangiorgi Srl constantly places prestige first. Moreover, they are extremely welcoming to visitors. They are on call 24 hours a day, seven days a week. For any issues or problems, you may leave a remark or get in touch with them via phone and email.
If you're looking to see if your wireless router is vulnerable to the WPS protocol, this is the program for you. Currently, there are a lot of applications that offer the same qualities, but not all of them are good and free at the same time. " For free, you can utilize Wps Wpa Tester and get passionate support from the Support staff.
Protect Your WiFi from Hackers
There are many different types of wifi, and Wps Wpa Tester makes it easy for customers to switch between them without having to contact their internet service provider. Change MAC codes, PINs and passwords, as well as other easy manipulations, can be done through it. In addition to extensive instructions for each mechanism, the app will also offer enthusiastic support to its users. As a result, the user's wifi is always secure and cannot be accessed by anybody else. Also, users can easily copy all the data or material they see through the application and exploit interesting stuff from the special code.
More Advanced Features
A wide variety of extensive customization options are provided for Wps Wpa Tester's wide range of wifi-related functions, which are valuable to a wide range of users. Every aspect of it may be tweaked, altered, or interacted with by the user, even changing how it operates and obtaining many thorough instructions on how to defend their WiFi network.
Using Wps Wpa Tester can be done at any time and from any location. In particular, its primary goal is to safeguard users' wifi from public dangers while also allowing them to effortlessly manage every other wifi.
Wps Wpa Tester Premium APK – Paid Version
WPS WPA Tester has more than 50 million downloads in the Google Play Store, making it the most popular Wi-Fi security tool. However, it's also proven and awarded as the greatest Android-specific wireless network security protocol. For the official app, the WPS WPA Tester Premium APK is the premium in-app application. We've included a list of the app's most important features below.
Mod Info
Ad-Free: In the free version of the WPS WPA Tester, the only interruption is advertising. Due to video and virtual ad-related vulnerabilities, this free edition of the app sometimes takes us straight back to the app's home page. You can use the WPS WPA Tester Premium APK for this purpose. You may rest assured that it's ad-free, and you'll get a beginner-friendly app interface with this one.
No Root: Root access is required to run most of the modified, re-created, and Wi-Fi security-breaking programs. Rooting your phone, on the other hand, can erase all of your device's critical certifications and security modules, as well as potentially damage the phone's hardware. Only the WPS WPA Tester Premium APK has been customized to function with all of the app's tools on both rooted and non-rooted smartphones, making it the most versatile.
Premium Unlocked
Paid Patched
Download Wps Wpa Tester Premium APK for Android
It's easy to break into someone's phone using wi-fi, and it's one of the simplest ways to take personal information. Our WPS WPA Tester Premium APK is so large that you don't have to worry about these minor issues. Using this software, you'll be able to check the security and vulnerability of your wi-fi router, as well as the Wi-Fi model.
It also comes with a completely ad-free app experience and gives you access to many of the premium features for no additional charge at all. It doesn't matter if your phone is rooted or not to use this app. So go ahead and get it now, and if you're a newbie, you can learn more from the in-depth tutorials. Have fun with it.